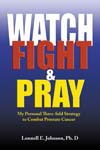 Watch, Fight and Pray:
My Personal Strategy to Combat Prostate Cancer
By Lonnell Johnson, Ph.D
Paperback
This book provides a powerful message that prayer changes things. Dr. Lonnell Johnson's personal testimony provides a unique strategy of how faith, prayer along with our Prostate Cancer Protocol allowed him to defeat prostate cancer.
Read more about this book.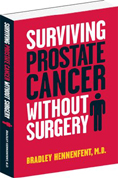 Surviving Prostate Cancer without Surgery
By Bradley Hennenfent, M.D.
Paperback

"Surviving Prostate Cancer Without Surgery" by Bradley Hennenfent, M.D. (Roseville Books, 2005), begins with the shooting of a urologist and includes a WWII Battle. Men, and the women who love them, who want to avoid impotence and incontinence while beating prostate cancer, will adore "Surviving Prostate Cancer Without Surgery", which reads like a novel and exposes the big lie.
Read more about this book