Resources:

People at risk for Breast Cancer
---
Women with the following conditions or characteristics are at a higher-than-average risk for developing breast cancer.
Women (comprise over 99 percent of cases; men comprise under one percent)
Increasing age

History of cancer in one breast

History of benign breast disease

Never giving birth or first pregnancy after 30

Family history (first-degree relative) of breast cancer (significant for premenopausal women)

Early onset of menstruation and late menopause

Possibly, long-term oral contraceptive use (although this is controversial)

High doses of ionizing radiation before age 35

History of cancer of the colon, thyroid, endometrium, or ovar

Diet high in animal fat, excessive alcohol consumption, and,possibly, obesity

Alterations in certain genes

Breast implants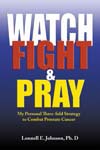 Watch, Fight and Pray:
My Personal Strategy to Combat Prostate Cancer
By Lonnell Johnson, Ph.D
Paperback
This book provides a powerful message that prayer changes things. Dr. Lonnell Johnson's personal testimony provides a unique strategy of how faith, prayer along with our Prostate Cancer Protocol allowed him to defeat prostate cancer.
Read more about this book.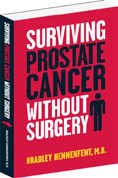 Surviving Prostate Cancer without Surgery
By Bradley Hennenfent, M.D.
Paperback
"Surviving Prostate Cancer Without Surgery" by Bradley Hennenfent, M.D. (Roseville Books, 2005), begins with the shooting of a urologist and includes a WWII Battle. Men, and the women who love them, who want to avoid impotence and incontinence while beating prostate cancer, will adore "Surviving Prostate Cancer Without Surgery", which reads like a novel and exposes the big lie.
Read more about this book